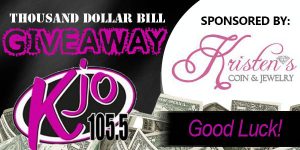 $1000 Bill Giveaway Official Rules
KKJO Contests
Eagle Communications, Inc.
Resident of the United States.

18 years old or older and have valid identification.

Employees of Eagle Communications, Inc., and Promotional Sponsor full or part time and their immediate families or individuals in the same household and their employees and respective promotional or advertising agencies are not eligible.
No purchase necessary to win.
Winner will be responsible for any and all applicable federal, state and local taxes and or license fees arising from the receipt of any prizes in this contest.
Winner agrees to sign an affidavit of eligibility and release to be eligible to receive any prizes.
One Grand Prize winner per family or household during the course of this contest.
Eagle Communications, Inc. AND/OR Promotional Sponsor reserves the right to substitute a prize of equal or greater value.
By participating in this contest, participants agree to have their telephone conversations recorded and or broadcast live. Eagle Communications, Inc., shall have the right to use and publicize the winner's name(s), character likenesses, voices, photos and the fact that he/she won a prize in an Eagle Radio contest for any and all promotional purposes without further compensation or permission.
Eagle Communications, Inc., reserves the right to discontinue this contest and/or change the rules and dates without prior notice.
Prizes cannot be exchanged or sold.
K-JO will give away entries in the $1000 Bill Giveaway every hour weekdays between 7-5 (10 per day) starting 4/04-4/28. On Thursdays, each winner will receive 5 entries (5 $1 bills)   These entries are actually dollar bills.
On Monday, May 1st,  we're going to read the serial number from one of the dollar bills we've given away.  The holder of that dollar bill will have 1 minute and 55 seconds to call in at 816-671-1055 to claim the grand prize of $1000.