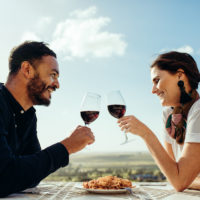 2,000 single people were asked to name the top things they're looking for when it comes to dating.  And "good looks" did not make the top ten . . .
1.  Honesty.
2.  They can make you laugh.
3.  Kindness.
4.  A great sense of humor.
5.  Good communication.
6.  Great manners.
7.  A nice family.
8.  They love to travel.
9.  They have a good job.
10.  They dream big.