Here is the schedule for the K-JO 105.5 Canned Film Festival
Every Tuesday and Wednesday morning see a great K-JO Kid's Classic at the Regal Hollywood 10 Theaters. All you need to get in is one can of food for Second Harvest.
Doors open at 9 and the movies start at 10!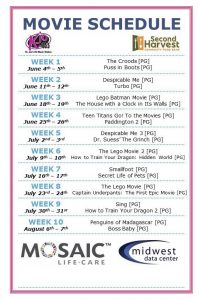 Thanks to all of our sponsors including:
Joe Town Mini Golf
Schneitter Fireworks
Dr. Frizzo
Lanham Music