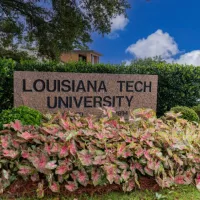 Four people were stabbed Monday morning on the campus of Louisiana Tech University in the north Louisiana city of Ruston. The victims were stabbed as they were leaving the Lambright Sports and Wellness Center on Tech's Ruston, Louisiana, campus.
Police learned of the stabbings at 9:08 a.m. and had the suspect in custody four minutes later. The university issued a statement saying campus police caught a suspect — 23-year-old student Jacoby Johnson – who was taken into custody after the attack outside the Lambright Sports and Wellness Center. The suspect was being treated at Northern Louisiana Medical Center for injuries received during the initial incident, according to the school.
The school said in a statement: "This appears to be a random act of violence …The suspect then fled south toward main campus and was apprehended by campus police without incident." Ruston Police Chief Randall Hermes told the Ruston Daily Leader: "It sounds like he ran up behind them and surprised them." 
Of the four victims, one was a graduate student reported in serious but stable condition and flown to nearby Shreveport, Louisiana, two were taken to a local hospital in Ruston, and the other refused treatment. One victim was in critical condition at Northern Louisiana Medical Center shortly before noon local time. Two others were in serious, but stable condition, according to the university. The remaining three victims were not students.
Editorial credit: Chad Robertson Media / Shutterstock.com