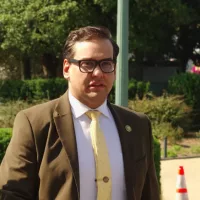 On Thursday, Rep. George Santos said he will not be seeking reelection in 2024, this after the House Ethics Committee released a scathing report that concluded there is "substantial evidence" that Santos "violated federal criminal laws," including using campaign funds for personal purposes and filing false campaign reports. The New York Republican said in a statement on X: "I will continue on my mission to serve my constituents up until I am allowed. I will however NOT be seeking re-election for a second term in 2024 as my family deserves better than to be under the gun from the press all the time."
The Ethics subcommittee said in its wide-ranging 56-page report, that Santos found "a complex web of unlawful activity involving Representative Santos' campaign, personal, and business finances. Representative Santos sought to fraudulently exploit every aspect of his House candidacy for his own personal financial profit … He blatantly stole from his campaign. He deceived donors into providing what they thought were contributions to his campaign but were in fact payments for his personal benefit. He reported fictitious loans to his political committees to induce donors and party committees to make further contributions to his campaign—and then diverted more campaign money to himself as purported 'repayments' of those fictitious loans."  The report continued that Santos "used his connections to high-value donors and other political campaigns" to enrich himself, "and he sustained all of this through a constant series of lies to his constituents, donors, and staff about his background and experience." The Ethics panel also detailed various suspicious campaign expenditures, which included spending at Hermes, Ferragamo stores, an Airbnb while Santos was on a Hamptons weekend getaway, Botox treatments and OnlyFans, a subscription-based website.
The DOJ has already charged Santos on multiple federal counts, including identity theft, money laundering and theft of public funds. He is set to go on trial in September and has pleaded not guilty. Santos, 35, said on X: "I will remain steadfast in fighting for my rights and for defending my name in the face of adversity. I am humbled yet again and reminded that I am human and I have flaws, but I will not stand by as I am stoned by those who have flaws themselves.
Editorial credit: Philip Yabut / Shutterstock.com